Anniversary of Throwing Axes
February 4, 2023
---
Celebrating Our 5 Year Anniversary at Half Axe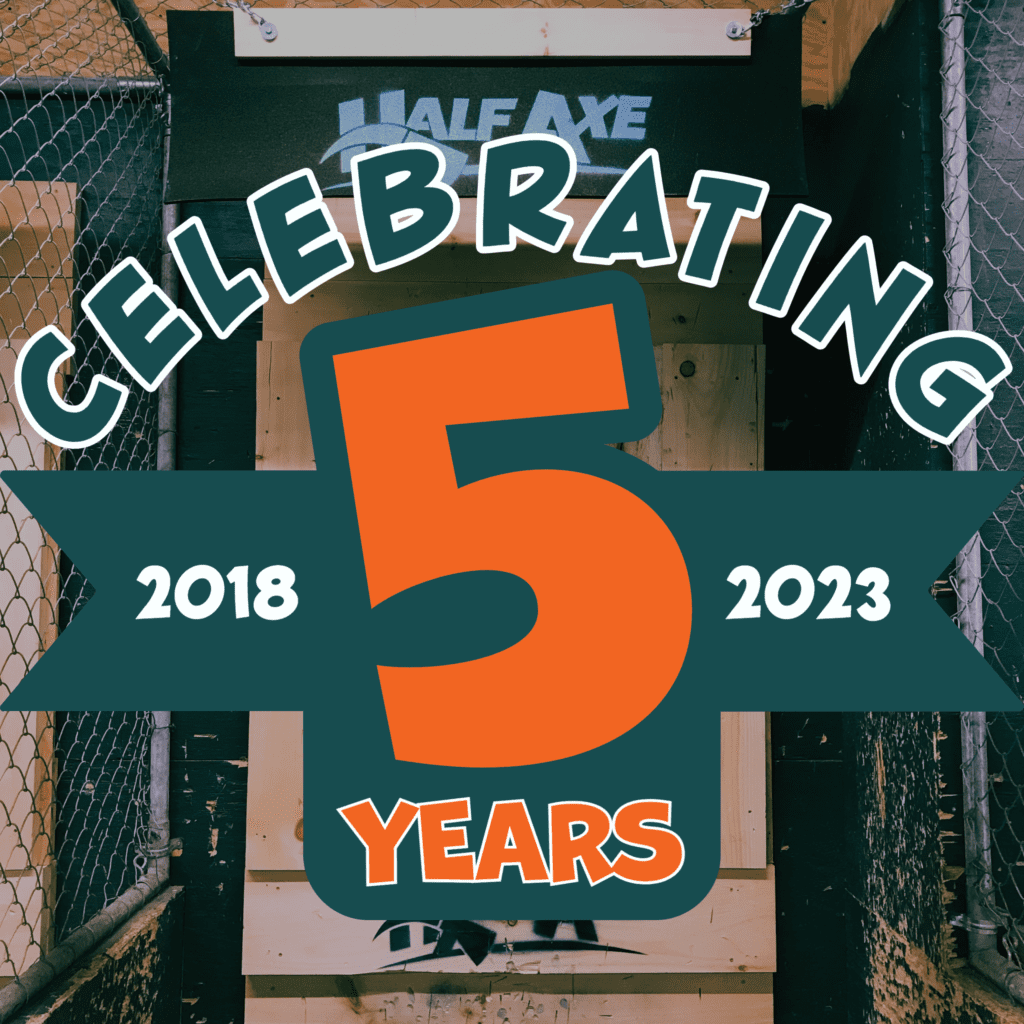 It's hard to believe that it's already been five years since we first opened our doors at Half Axe. We started with a goal of offering a unique and an exciting, new experience. Over the years, we've seen it all - from first-time throwers to seasoned pros, from birthday parties to corporate events, and from date nights to friendly competitions. We couldn't be more proud of the community that has grown around our passion for axe throwing.
In the beginning...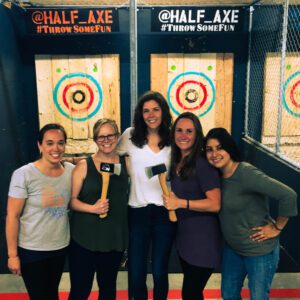 When we first started, we were one of the pioneers in the emerging sport of axe throwing. We saw a need for a place where people could come together to try something new and challenge themselves. Of course, while having a great time doing so to boot. As we look back on the past five years, we're proud to say that we've achieved just that!
Since our opening, we've hosted tens of thousands of visitors, many of whom have become regulars and even good friends over the years. Whether they're coming in to beat their personal best, or just to enjoy some time with friends, they know that they'll always find a welcoming and supportive atmosphere at Half Axe.
Camaraderie Commodity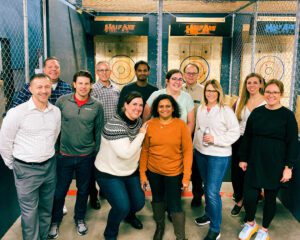 We've also seen an increase in the number of corporate and team-building events that we host. Companies and organizations of all sizes have recognized the value of our venue as a unique and effective way to bring their teams together, build camaraderie, and have some fun. And we've been more than happy to work with them to create memorable experiences that they'll never forget.
Celebrate our 5 Year Anniversary with us!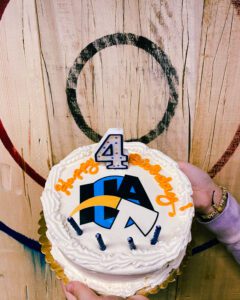 To celebrate our fifth anniversary, we'll be throwing it back to our grand opening weekend with an open house event! (details below) We're also looking forward to the opportunity to reflect on our journey so far and to thank everyone who has helped us get this far.
So, whether you're a seasoned pro or a first-time thrower, we invite you to come out and join us as we celebrate five years of throwing axes at Half Axe. We can't wait to see you there!
Thank you for your continued support,
Derek J. and the Half Axe Team
---
Anniversary Event Details
Come join us for a throwback to our Grand Opening back in 2018! We'll be holding an open house with heavily discounted throw time.
Flat rate of $50 for a half hour of throwing time on 2 targets from groups of 2 to 4 people.
Have more than 4 or want to throw for longer? Simply make multiple bookings!
Searching Availability...
As always, our booking policies apply to this event. You must be at least 15yo accompanied by a parent/guardian or 18 to throw, and our refund policy is in effect.
This event will be an area where photography, audio, and video recording will occur. By entering an event or premise of Half Axe, you are entering an area where photography, audio and video recording may occur.
If you have any questions regarding this event, please feel free to message us at info@halfaxe.com or give us a call at 508-251-2815.
Looking to make a booking on another day?
It's a good idea to secure a booking with us, especially during the winter time!
You can book online with our booking widget which offers real-time availability here: Book Now