We back! – Reopening 7/10/20 and Covid-19
July 8, 2020
---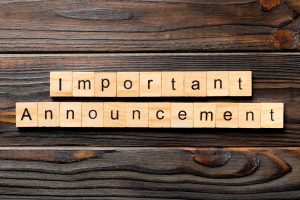 We Back! – Reopening this Friday (July 10th)
We are so happy to announce that we will be reopening our doors this Friday, July 10th! We'll be going over our reopening safety procedures down below.
After 116 days of doors closed, we are opening them back up to bookings. Although things may be a little different, we are even more committed to providing the highest quality axe throwing experience, and we can't wait to welcome everyone back.
Covid-19 Safety
Safety has always been our number one priority, and we will continue to do so with Coronavirus. Above all, it is our goal to provide an environment where everyone feels safe and can freely have a fun time.
For instance, here are a few things we are doing to protect all our customers and team members during these unprecedented times:
We have a reduced capacity and have limited group sizes
All groups have 2 targets (12 ft) and barriers separating them from any other group
Team members perform a symptom check prior to their shift
We ask customers to stay home with a reschedule or refund if they are experiencing any Covid-19 symptoms
Team members and customers are required to wear face coverings
Social distancing of 6 ft will be maintained between team members, customers, and other groups.
Hand sanitizer is freely available throughout the facility
Regular hand washing is encouraged and available to all team members and customers
Team members sanitize all common areas, axes, high traffic surfaces, etc. between each group and throughout the course of the day
We ask customers to fill out the waiver online or on their device in-person
Leagues have been postponed until further notice. For this reason and due to reduced capacity, league lanes are unavailable to throwers.
Throw with us!
Because of the significant restrictions of Covid-19, we've adapted to better serve our customers. For example, we've reduced our services to just the Throw. Additionally, the Throw has changed as well.
For simplicity, the Throw will provide your group with 20 minutes of throwing time per person. The larger your groups, the more time you receive. We've heard you, and we will exclude the throwing instruction time from the overall time, as well. This means, the time you pay for will truly be your time to have fun and #ThrowSomeFun!