Q & A Session with Our Axe Throwing League Manager
October 1, 2022
---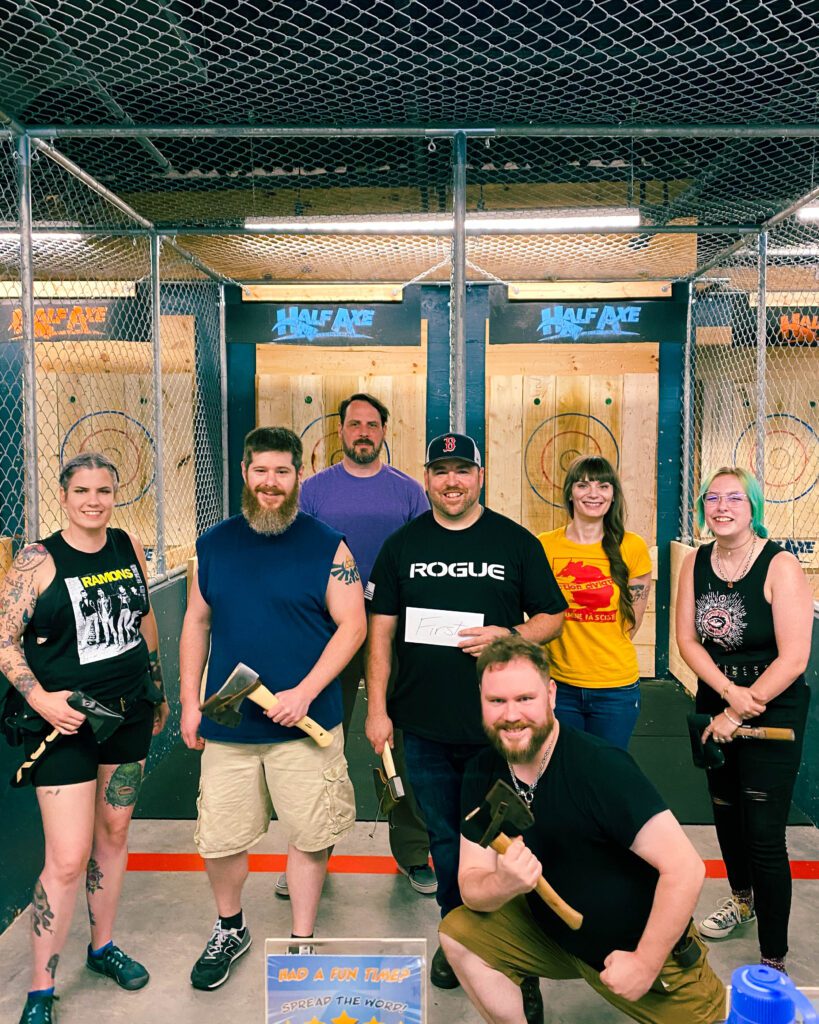 It's that time again – league sign-ups are open again for another season! We'd love for you to join our leagues! Half Axe is affiliated with the IATF (International Axe Throwing Federation), so we play according their rules and regulations.
Half Axe has been running axe throwing leagues since September 2018, the first to do it in New England! Since then, we've had a lot of people come and go as the sport gains popularity. No matter the members, our axe throwing league always cultivates a sense of community amongst everyone. Even though everyone is playing against each other, everyone is always rooting for one another. This is a great way to meet people and make new friends! It's also a unique hobby, and a great conversation starter.
To kick things off, we asked our League Manager in Marlborough, Jack Gaffney, a few questions about axe throwing leagues that you may have.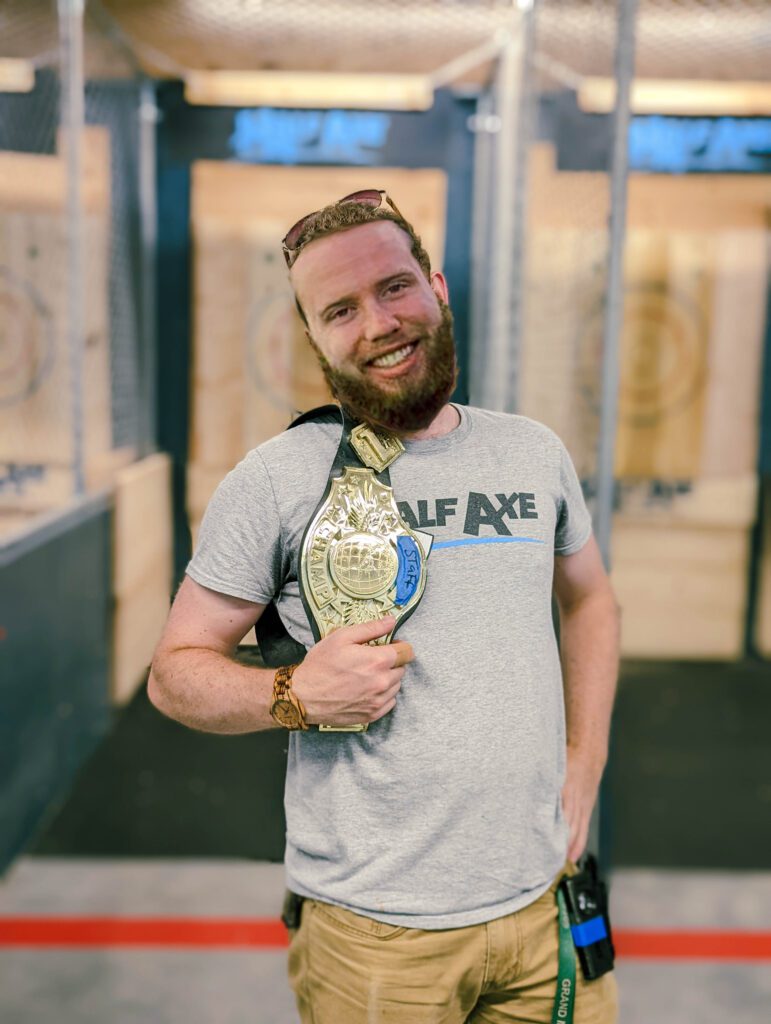 Q: Why should one join leagues?
A: There's lots of reasons! You should join our axe throwing leagues if you enjoy axe throwing, or are looking for a fun time, to make new friends, a new hobby, or even just looking for something fun to do after work or on the weekends!
Q: Do you have to be good at axe throwing to join leagues?
A: Absolutely not, we have people of all skill levels in the league. I've heard the league manager is very helpful, and he'll happily help you to improve your throw, or to help you score better, and make sure you're following the rules. You can have zero experience and the league manager will always be happy to help you along the way. Others will also definitely step in to help you too!
Q: What's the overall vibe/energy of leagues?
A: It is definitely more about having fun than purely competition. Everybody is learning together. There is definitely friendly competition, but when it comes to playing the game, everyone is supportive of each other. There's no air of big, angry, high-stakes competition. It's really mostly about having fun and making friends. If you win, that's awesome! If you lose, it's okay you can try again. When someone's having a rough time, people are quick to jump in to give tips based on what they've seen.
Q: Do you need a team to join axe throwing leagues?
A: No, it's all solo play. 1 vs 1 games. We currently don't have any team related activities.
Q: What if I don't know anyone in the axe throwing leagues?
A: That is completely fine! Everybody's friendly, so it's a great place to make new friends. I'd even say it's where you go to make friends. Some people join with their friends, which is great! There have been plenty of people who came in solo, and mesh seamlessly with the group.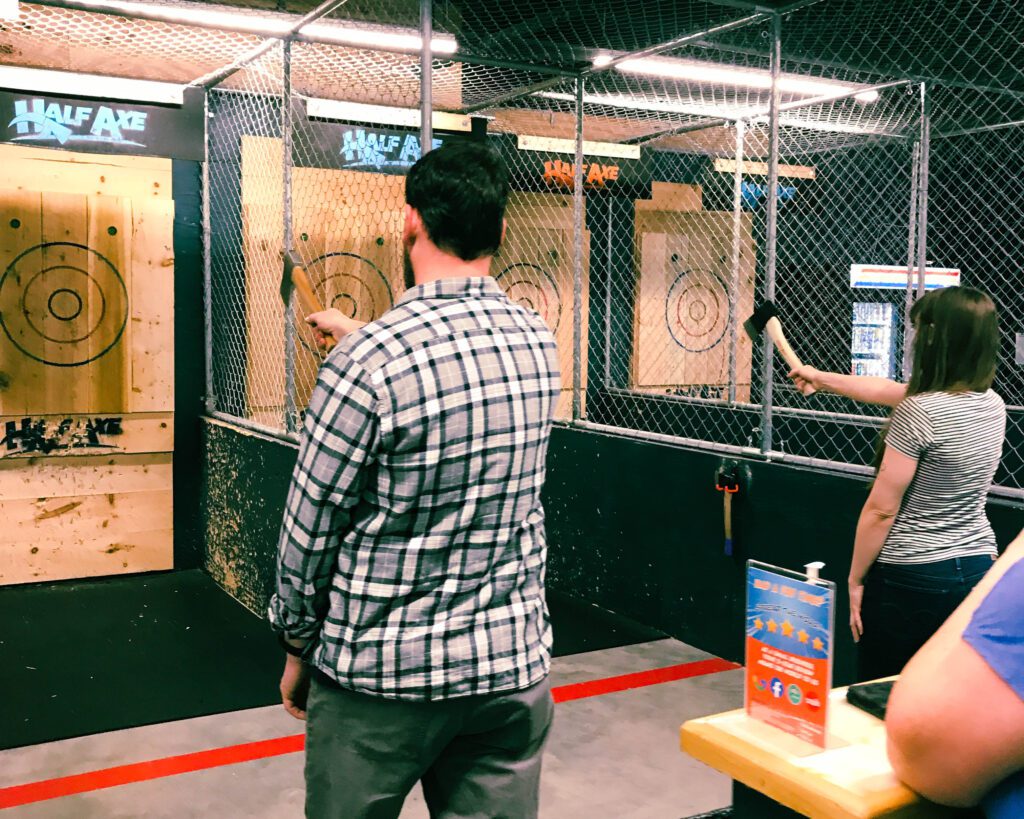 Q: How many throws do you get in a season?
A: Let's see, you play about 4-5 games/week, each game has 15 throws. With seven weeks of play, that equates to at least 420 throws. That doesn't even include throwing big axe for tie breakers or playoffs!
Q: What's the best part of leagues?
A: Oh, Playoffs is definitely the best part! We always do a potluck so that's always fun. Playoffs always have Big Axe (tie breakers) way more often. It still retains the same amount of sportsmanship and friendly competition, but there's more of an end goal so it adds a little spice on top.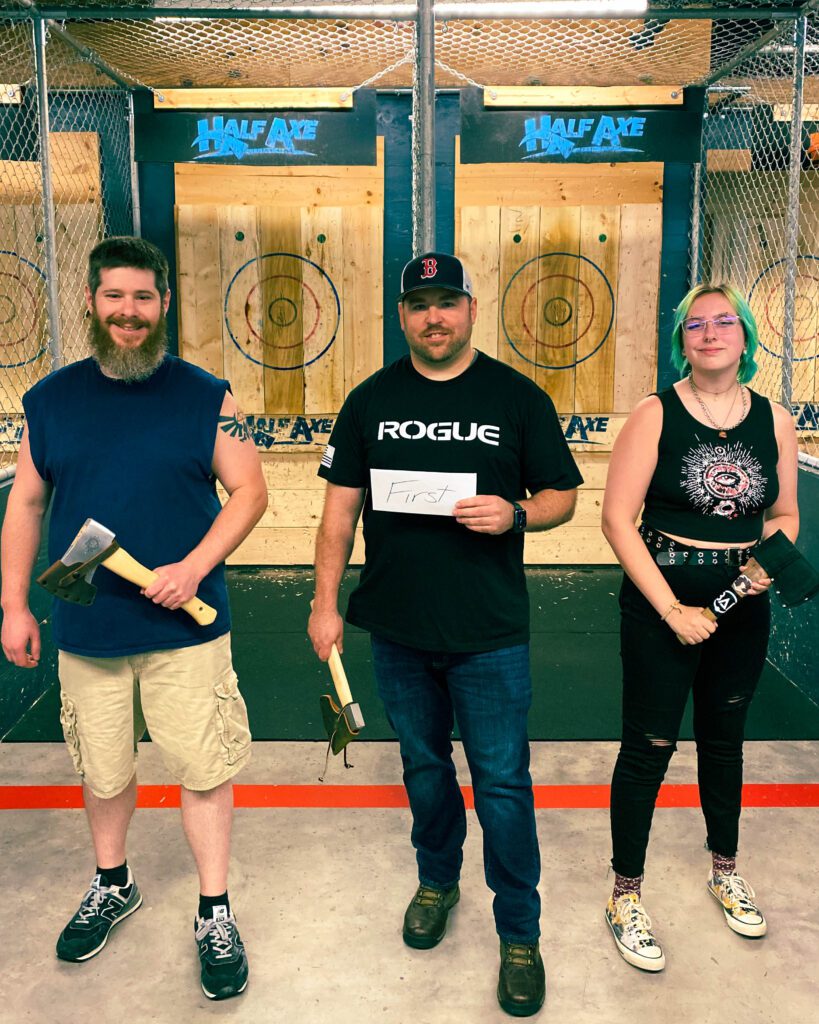 Q: Are there perks to being in leagues?
A: There's a bunch of perks! You can bring your own axe, and you get to throw a big axe. We have league lanes that are always open no matter how busy we are. To use them is only $5/half hour. We have a prize pool at the end of the season that if you win playoffs, you get a piece! You can also qualify to play in IATC (International Axe Throwing Championship) in Toronto in June! There's also a 50% discount when you come in for a regular throw session with a group of up to 6 people. If you're really into axe throwing and practice a lot, you can really get your money's worth!
---
That wraps our Q & A session! Thanks Jack for some great, insightful answers! League sign-ups are open and we love to see new faces! Click here for more info and sign-ups!